We hope you are loving your summer and having a blast! (Yes, you can start singing 'Summer lovin' from Grease at the top of your lungs – no judgment). Aeries is hard at work to bring you closer to your best and brightest future and to help meet our users' needs. And in case you haven't heard it in a while, thank you! Thank you for all that you do to help kids and staff be successful in the education system.
When creating each Aeries feature, we analyze these measurable principles to ensure quality and your users' success:
Security – Does this decision increase the level of system security?
Student Success – Does the decision produce a potentially measurable impact on student outcomes?
Extensibility – Does the decision give more power to customers to customize their experience?
Compatibility – Does the decision improve 3rd party interoperability or state reporting requirements?
Super-Star Users – Does the decision make the user's job easier and make them look like an expert?
Comprehension – Does the decision make the system easier to intrinsically understand?
Maintainability – Does the decision make the system easier to maintain in the long run?
With these core principles being the launching point for creativity and incorporating our user feedback, we know NextGen is going to be incredible. Thank you for helping us build the best Student Information System possible and for helping us fulfill our mission to deliver data-driven, intuitive, and innovative solutions that empower communities to advance student success.
Tell you more? NextGen is getting exciting and we can't wait to share some more features with you.
Programs
We are getting with the program in NextGen! The Program feature itself will have some great enhancements. Here are the main points of focus:
Aeries Programs in NextGen will be moving to a single set of date fields, shifting from eligibility vs participating, with state reporting extracts determining how to classify the dates for CA state reporting
We will be reducing redundant data on the Programs page and like any area of NextGen, districts can add any custom field that they feel they would use
In NextGen, users will be able to view all programs in one area (including SPED, 504, etc. )
As we progress towards NextGen, this feature will get more granular and we will share even more awesome details!
The purpose of this image is to show functionality, not what NextGen will actually look like.
Current Year Fundamentals – Master Schedule
NextGen – Making Calendars & Terms quick and painless!
So, how do we do this? We'll be utilizing workflows, Aeries Data Table, Flexible Terms, and the adoption of Academic Calendars. Districts will have the option of a single Academic Calendar or many Academic Calendars to manage multiple scheduling types within a single school. We will be reducing the workflow with enhanced features such as applying an Academic Calendar to a single School or by a School Group. The user will be able to quickly add Holidays, Staff Development days, with a click of the mouse or by a date range! The Master Schedule feature will have improved searching, filtering, and sorting throughout the NextGen system. Ready, Set, Master Schedule!
Below is an illustration wireframe of some of the functionality enhancements. This is just for functionality, not what Aeries NextGen will actually look like.
Or if you want to see the functionality of the Academic Calendar in a different view…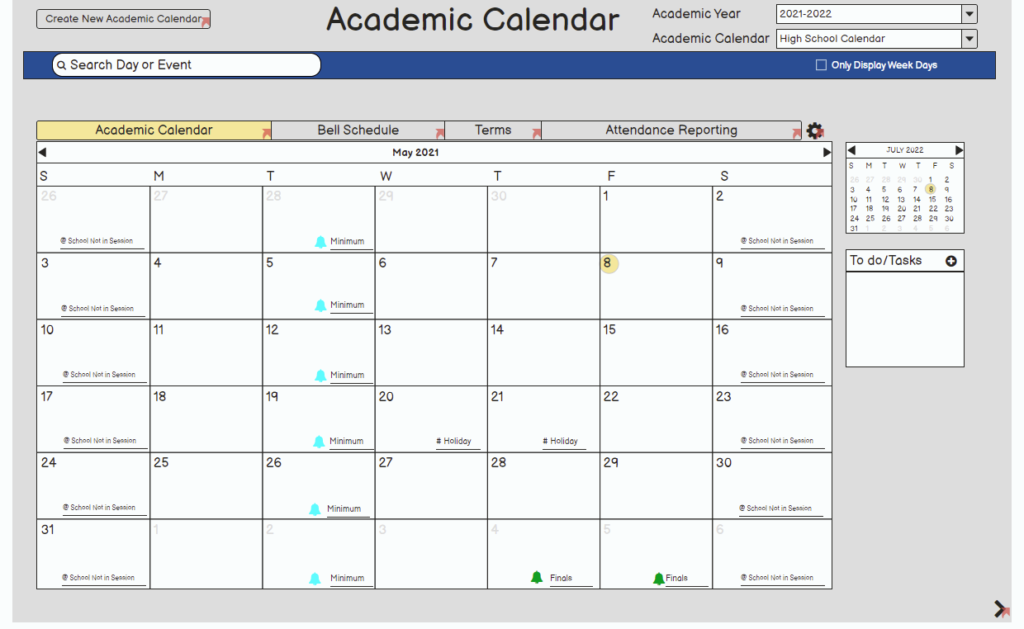 Student Class Schedules
Now that we have our Master Schedule built, let's get these kids a schedule!
Good news, the SEC and CAR table will be combined! We've coined it, "Student Class Schedules."​
Scheduling display options will be more intuitive. Making your life a little easier when creating, changing, or gathering information related to student class schedules.
Who likes limitations? We will empower users to have more room to play with Scheduling Draft capabilities! The Scheduling Draft is an area to see what will work for the student's schedule without making concrete changes. These drafts can be saved, edited, or implemented. For those course ID wizards (you know who you are!), we will have a quick edit option that will give the user the ability to manually enter course IDs or section numbers.
Aeries will analyze potential collision data and alert the user. It will also have the user specify the effective date of the change, hence fewer audit errors!​ Restoring previous schedules for re-enrollment, enhancing the use of Master Schedule, and analyzing Student Data, are just some of the ways we hope to aid you in your scheduling needs!
The student body will benefit; teachers, admin, and staff will love these enhancements!​
This is just for functionality, not what Aeries NextGen will actually look like.
Keep enjoying your summer days; we hope they don't drift away too fast! Rest assured, you will be a super-star user in no time with Aeries NextGen!
To stay up-to-date with NextGen developments, be sure to follow Aeries Events, as well as our Facebook, Instagram, Twitter, and LinkedIn.